Enter details
Payment
Complete!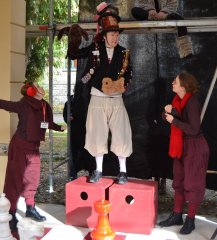 Alice in Wonderland – Butterfly Theatre
Follow Alice down the rabbit hole into a wonderland full of crazy characters and nonsense: meet Humpty Dumpty, the most famous egg in the world, be a guest at the Mad Hatter's tea party and battle against the mysterious Jabberwocky. Curiouser and curiouser.
Please note that the production is a promenading performance, each part of the story will take place different locations within the Museum's extraordinary spaces. Running time for the production is approximately 75min.
If you have any question about the performance or upcoming events at the Museum please feel free to contact us at museum@waterandsteam.org.uk or call on 020 8568 4757
Sorry, no tickets are currently on sale.
your basket
Item
Price
Qty
Subtotal
There are no items currently in your basket

Total

£0.00