Enter details
Payment
Complete!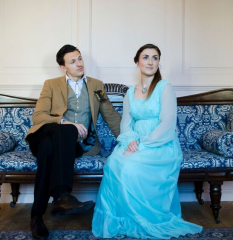 The Importance of Being Earnest – Butterfly Theatre
A timeless comedy masterpiece, this renowned and hilariously witty play will lift your spirits with wordplay, elaborate plot and some of the best loved and indeed bizarre characters in all of Wilde's work.
Be transported to a world of handbags and cucumber sandwiches and relish in the misbehaviour of the young aristocracy as they endeavour to add a little excitement to their burdensome lives. Join the love-struck Jack Worthing, the feuding Cecily and Gwendolyn and the indomitable Lady Bracknell in a series of hilarious mistaken identities which will leave everyone knowing the vital importance of being Earnest…
Breathing new life into much loved texts, the Butterfly Theatre company immerse audiences in classic tales, using unusual spaces to set our story - such as caves, castles and woodlands - and truthful, responsive acting to excite and delight in every moment.
Please note that the production is a promenading performance, each part of the story will take place in different locations within the Museum's extraordinary spaces. Running time for the production is approximately 90min including an interval where a selection of Lady Bracknell's favorites will be served.
If you have any question about the performance or upcoming events at the Museum please feel free to contact us at museum@waterandsteam.org.uk or call on 020 8568 4757
Sorry, no tickets are currently on sale.
your basket
Item
Price
Qty
Subtotal
There are no items currently in your basket

Total

£0.00