Enter details
Payment
Complete!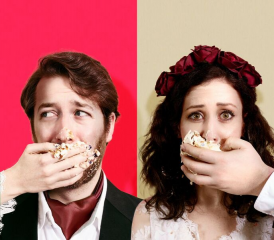 The Secret Marriage - Pop-Up Opera
Back by popular demand the London Museum of Water and Steam is delighted to announce that the critically acclaimed Pop-Up Opera will be returning on the 25th of May to perform Domenico Cimarosa's 'Cimarosa Il matrimonio segreto (The secret marriage)'
An 18th-century Italian comic opera by Domenico Cimarosa. You can hear the influence of Mozart in the music. Filled with comic intrigues and confusions, the story is about following your heart, and makes a perfect summer opera filled with our special Pop-up Opera humour, sparkle and fun.
Its premiere was the occasion of the longest encore in operatic history; Leopold II was so delighted that he ordered supper served to the company and the entire opera repeated immediately after!
Doors open at 6pm for a hearty sausage and mash dinner in the Museum's café for only £8.50 (vegetarian option available).The performance will begin at 7:30pm , please note that seating is unallocated and latecomers may not be admitted into the performance.
If you have any question about the performance or upcoming events at the Museum please feel free to contact us at museum@waterandsteam.org.uk or call on 020 8568 4757
What others are saying about Pop-Up Opera –
"A two-hour explosion of beautiful music, top-class singing, and exceptional acting... I honestly cannot imagine anyone, of any age or class or tastes, who would have been bored or unmoved." The Times
"Discard any preconceptions you have of opera as Pop-up Opera is putting the fun back into the art form" West End Wilma ★★★★★
"a serious commitment to musical standards... along with a personality of its own that reminds you that opera, inter alia, can actually be quite fun." Opera Now Magazine ★★★★★
Sorry, no tickets are currently on sale.
your basket
Item
Price
Qty
Subtotal
There are no items currently in your basket

Total

£0.00