Enter details
Payment
Complete!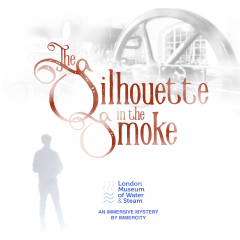 Silhouette in the Smoke - ImmerCity
An immersive murder mystery unlike any other
It was 1871, and every level of the pumping station was bustling with activity in preparation for the grand opening of the 100" Cornish Engine, when two unexpected guests from the workhouse arrived demanding to see the small boy who had been apprenticed to the Chief Engineer.
Now, more than a century later, a child's crying has been heard from beneath the Cornish Engine and it is starting to unnerve the tourists. The Museum has invited the master of the supernatural, Jack Daw, to awaken the past and uncover the truth.
You must solve the mystery in groups of six so bring friends or make new ones.
Victorian High Tea is included in the ticket price.
Unfortunately this show is not wheelchair accessible.
For tickets please click here (tickets are currently available, so ignore the message below).
Praise for ImmerCity's previous Immersive Mysteries: 5*
"it works brilliantly: the experience feels almost tailor-made to each individual group… a fantastic show, and an enjoyably different night out."
Everything Theatre: 5*
"It's a dance with the dead that will leave you hanging for more"
London Theatre 1: 5*
Sorry, no tickets are currently on sale.
your basket
Item
Price
Qty
Subtotal
There are no items currently in your basket

Total

£0.00